Fuel cell materials
Inorganic Materials General Division is working on research and development of solutions to global environmental problems, including global warming.
Our fuel cell materials include:
●Complex oxides
SOFC materials (electrode materials, electrolyte materials, Interlayer)
Our strength
1.Citric acid-based synthesis
This synthesis method is unique in that it involves a reaction between citric acid and slurry (metal carbonates or hydroxides) to produce transparent precursors by heating. The composition of oxides produced by calcination can be easily controlled, compared to other synthesis methods – i.e., the solid phase reaction method and some of the coprecipitation methods. In addition, they can be doped with trace amounts of compounds in a uniform and quantitative manner. It is an excellent synthesis method because, in principle, these metal complex oxides are uniform in composition and hence a uniform powder can be produced. Similar compounds, moreover, can be mass-produced. It is also an environmentally friendly method as it is a solvent-free, water-based synthesis with no need for wastewater treatment.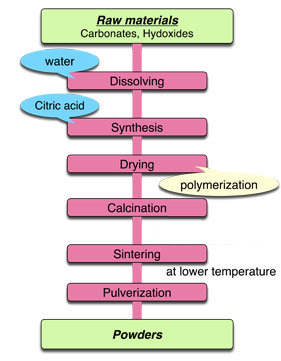 2.Stable material supply
Our factory in China ensures a stable supply of rare earth materials.
Example of SOFC Materials
Composition and properties (powder size and specific surface area) can be tailor-made to suit requirements.
Materials for Fuel Cells Lineup
Material
Particle size
(μm)
Surface area
(m2/g)
Cathode
La0.8Sr0.2MnOx
0.4-0.6
5-9
La0.6Sr0.4Co0.2Fe0.8Ox
0.6-0.8
6-8
Electrolyte
Gd0.1Ce0.9Ox
0.1-0.3
9-11
Interlayer