Fluorocoating agents SFCOAT
Fluorocoating agents
In fluorine coating, a well-known example is surface treatment with PTFE (polyterafluoroethylene).
SFCOAT is a surface treating agent, which uses a fluorinated compound having higher water-repellent and oil-repellent properties than PTFE.
The treatment procedure of it is simpler than PTFE; by mere treating with SFCOAT (soaking in SFCOAT or brushing with SFCOAT) a part or a product whose surface is to be processed followed by drying it at room temperature, a fluorine coat having high water-repellent and oil-repellent properties can be formed.
Accordingly, a very small part or a part having a complicated structure can be easily coated by SFCOAT thereby giving a coat that is provided with high water repellence and oil repellence. In addition, a silicone oil, which cannot be readily repelled by PTFE, can be repelled with surety.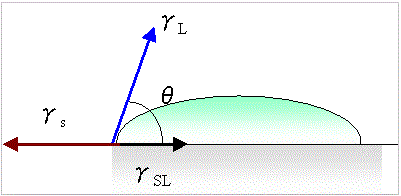 γL

Liquid surface tension
γS

Solid surface tension
γSL

Interfacial tension
YOUNG equation

By fluorine coating, γS (equivalent to surface tension of solid) in the above diagram is dramatically decreased. With this, the value in the left term of Young's equation is decreased (force to elongate the liquid is decreased) thereby leading to the state wherein it balances with small value of cosθ in the right term of Young's equation; in other words, it balances in the state of large θ (namely, large contact angle).
Because SFCOAT can lower this γS value (surface tension of solid) as compared with PTFE (polytetrafluoroethylene), high water repellence and oil repellence can be realized.
Water and Oil repellency
Solvent
Surface tension
(mN/m)
SFCOAT
(about 11mN/m)
PTFE
(about 19mN/m)
Water
about 73
○
○
Mineral oil
about 30
○
○
n-hexadecane
about 27
○
△
Octane
about 22
○
×-△
2-propanol
about 21
○
×
hexane
about 20
○
×
Silicone oil
about 20-21
○
×
Surface tension of the surface that is treated with SFCOAT is approximately 11 mN/m. On the other hand, surface tension of the PTFE surface is approximately 19 mN/m. Accordingly, an organic solvent and a silicone oil that cannot be readily repelled by PTFE can be repelled very easily.
Feature
Surface can be afforded with such properties as water repellency, oil repellency, and fouling resistance by a simple method such as soaking and brushing by using a liquid product that is obtained by dissolving the fluorinated compound in a solvent.
A wide range of products ― from a solvent system of rapid drying to an environment-friendly water system ― are available.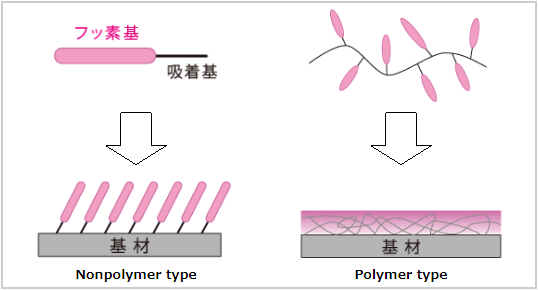 Applications
For explanation and graphic illustration of specific applications, please refer to the link.
If you have an idea of using a fluorinated coating material other than those shown below but cannot imagine which structure or item number is applicable, please feel free to contact us.
Sample
Please contact us if you wish to have the sample.